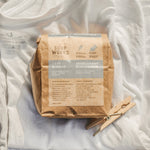 10+ Ways to use Safe Bleach around the house
Now that you've made the switch from harsh bleaches to The Soap Works all-natural alternative, Safe bleach, you're probably wondering about all the many ways you can use Safe bleach around the house.

We have compiled the ultimate list of ways you can use Safe Bleach to keep your home clean, naturally.

1. Keep your whites, white.

White laundry can be hard to keep just that, white. Between coffee stains and traditional bleaches yellowing the fabrics, white laundry can be hard to keep clean. Add 2-3 teaspoons of The Safe Bleach to your load to keep your whites bright.

2. Natural laundry boost

Whites aren't the only pieces of laundry that need a little extra TLC, sometimes our darks and colours need a little extra love too. Add 1-2 teaspoons of The Safe Bleach to any load to act as a laundry boost (and yes, it's safe for colours too)

3. Stain pre-treatment

Sometimes a wash isn't enough for those extra tough stains. To pre-treat stains using The Safe Bleach, soak articles of clothing in a large container of warm water with 1 teaspoon of The Safe Bleach for 30 minutes to an hour and then launder as normal.

4. Grout cleaner

Maintaining shiny tiles is easy, tile grout on the other hand, not so much. Keep your grout as dazzling as your tiles using Safe Bleach. Mix one part warm water, with one part Safe Bleach to create a paste. Apply the paste directly to the grout and scrub with a gentle brush or sponge. After a few moments of scrubbing, wash away paste with a wet cloth.

5. Baked-on food stains on cookware

Baked-on stains on cookware can be tough to wash away, and most commercial cleaning agents are filled with harsh ingredients. The Safe Bleach is an excellent match for baked-on stains and doesn't include any harsh ingredients. Fill the burnt pan with hot water and stir in 1-2 teaspoons of Safe Bleach. Leave for several hours or overnight, and the stains should wipe away easily.

6. Tea and coffee stains on mugs

Coffee and tea lovers can both agree, that after a while most of our mugs become a little bit stained. Give your coffee mugs a second life with a quick scrub. Combine 1 teaspoon of Safe Bleach with one teaspoon of warm water to create a paste. Scrub the paste onto the stains in circular motions, rinse with water and reveal your like-new mug.

7. Toilet bowl cleaner

That brightly coloured liquid that you flush right down the drain is often loaded with ingredients that are harmful to the environment. Instead, sprinkle your toilet bowl liberally with The Safe Bleach and scrub with a toilet brush until clean. No toxins down your drain anymore.

8. Bathtub ring:

No one likes to bathe in a dirty tub. Wash away bathtub ring and soap scum build-up from your bathtub easily. Fill bathtub a quarter of the way with warm water, stir in ¼ cup of Safe Bleach into the water. Then using a sponge, brush or rag, scrub the tub with the water mixture. Once cleaned, drain the water and give the tub a good rinse and reveal your sparkling clean bath.

9. Whiten shoes:

Dirty white sneakers? The Soap Works Safe Bleach not only can help keep your clothes bright and white, but it can also be used to keep white sneakers clean too. Simply mix together 2 tablespoons of Safe Bleach with equal parts warm water. Scrub onto damp shoes until clean, rinse shoes with water and let air dry.

10. Pet stains:

Being a pet owner is fun, until your fur-baby goes number one or two on your carpet, leaving behind a smelly stain. To wash pet stains away naturally combine two cups of warm water with two tablespoons of Safe Bleach, lightly dab mixture onto the stain with a rag to remove as much of the stain as you can. Rinse the rag with warm water and repeat until the stain is lifted from the carpet.

11. D.I.Y Multi-purpose cleaner:

For almost all your remaining household chores, there's nothing a good multi-purpose cleaner can't handle. Make your own with two ingredients; Safe Bleach and water. Combine 1-2 cups of hot water with 1 teaspoon of the safe bleach, store in a reusable spray bottle for easy cleaning.

Get your bag of Safe Bleach here, and get your cleaning on!