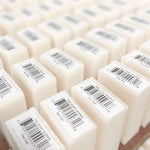 Behind the Barcode: Why our bar soaps have barcode stickers
From the very beginning, being eco-friendly has been at the heart of The Soap Works. We've always been proud of the fact that when you purchase and use a bar of our soap, you never have to throw anything away, and our soap naturally degrades into the ecosystem.
Over the last 30+ years of manufacturing our famous unwrapped bar soap, we have had to adapt and change many things throughout our evolution. One of the latest of these modern accommodations is barcode stickers.
When you go shopping, barcodes are on almost every product you purchase and are used to quickly scan each product you buy at checkout. They are also used to track inventory of products, deter theft, and data recognition and implementation. The convenience and avoidance of human error, is why the barcode system completely revolutionized the shopping world.
The first ever UPC barcode was scanned at an Ohio supermarket in 1974 and by the 1980's, barcodes were being scanned in many grocery stores throughout the United States. By the late 80's, UPC codes were being scanned on nearly every product across the globe.
When our retailers first asked us to use UPC barcodes, we were stuck at a crossroads. Introducing packaging to our unwrapped bars was out of the question, so we needed to get creative to find a solution. Thus, our barcode stickers were born.
We tested out several stickers in the beginning. The challenge we were faced with was to find a glue tenacious enough to last on our products, through shipping all the way to the cash register. Eventually, we found the solution and got to work on the design of our stickers.
We tried to minimize the footprint of the actual codes as much as we could. We print our barcodes on the smallest possible sticker we could get away with. We print on recyclable paper with vegetable-based ink.
Although it
 was not a decision we were completely comfortable making in the beginning, it seemed necessary if we were to move forward. Today, we take pride in our bars still remaining unwrapped, despite our many obstacles, and we're proud of our innovative thinking all those years ago introducing o